We value our clients' experience at Ajo Veterinary Clinic. If your pet or animal is currently a patient, please feel free to complete the following Client Experience Questionnaire. The Questionnaire is in Adobe Acrobat format, and requires the free Acrobat Reader to view.
Download & Print Questionnaire
---
97.7% of clients would refer friends and family to us.
gerardos, Tucson
We have been long time customers of Ajo Veterinary Clinic as they provide high quality customer service; starting from the front office staff to all the medical providers.
Nov 13, 2018
- 7 days ago
---
Nov 8, 2018
ronib, Tucson
Dr. Vick and the assistants are very caring. Received a call checking on my pet the next, which was really nice.
- 12 days ago
---
Nov 7, 2018
doriep, Tucson
It was quick and easy. Very friendly.
- 13 days ago
---
Nov 7, 2018
elizabeths, Tucson
The Doctor and staff were very friendly and professional. He explained everything in great detail and showed me what was wrong with my puppy. I think the only thing that I wished they had done was to given me a name and number to an orthopedic doctor since they said I needed to bring my dog to one. Over all I would come back and see them again.
- 14 days ago
---
Nov 6, 2018
lindap, Tucson
I have never been to a vet clinic as nice. Very friendly and knowledgeable staff and vets. I feel grateful to live near fere.
- 15 days ago
---
Nov 6, 2018
beverlym, Tucson
I have gone here with my dogs for years. No matter which Veterinarian I see, they are all wonderful! Also the assistants and office staff are so friendly and helpful. I would and have recommended them to many people.
- 15 days ago
---
Nov 3, 2018
ceciliab, Tucson
They always have well trained knowledgeable veterinarians and a helpfull friendly staff. They always show you the prices before you pay for possible procedurers that can be done then or later, Your choice.
- 17 days ago
---
Nov 1, 2018
tishay, Tucson
Everyone seemed nice and greeting me with a smile I will see how my visit goes on the 9th with my Puppy.
- 19 days ago
---
Nov 1, 2018
lilianam, Vail
Ajo Vet Clinic was able to get my dogs in quickly for an emergency appointment after they had been bitten by a rattlesnake. Dr. Clark was very thorough and attentive with our dogs. She took the time to answer all lf our questions and even followed up with u to check on the dogs a few days later. We drove about 25 miles to get to Ajo Vet Clinic and we would gladly do it again.
- 20 days ago
---
Oct 31, 2018
nancye, Tucson
Staff is great. Answers all my questions and very good with my pet.
- 20 days ago
---
Oct 31, 2018
gayt, Moab
The doctors and staff at Ajo are friendly, caring and competent.
- 21 days ago
---
---
I first took my cats to Ajo Vets because they had not been updated on their shots nor had they had any dental work. My cats were well taken care of, everything was explained to me very clearly, I trusted that the best decisions for their health were being made while being aware of any financial limitations that I may have had. The staff followed up with me after the dental visits to ensure that everything was ok and answer any other questions I might have had.
It is clear that Ajo Vets doctors and staff care very much for any animals that they come in contact and that they care just as much for the community that they are in.
I recommend anyone to take their beloved pets to Ajo Vets!
---
My dogs and I have found everything we need and want in a veterinary practice at Ajo Veterinary Clinic! Of course I looked for a vet who possessed not only knowledge and skill but empathy with animals (and patience with the animals' owners), but I also needed a veterinary practice that communicates well.
Whether my concerns are large or small, realistic or maybe a bit overboard, everyone on your staff not only investigates each concern but helps to educate me so that I'm a better dog "mom".
What is unique to your practice, in my experience, is that you have opened yourselves to communication from your clients. We can call, e-mail, or send messages and requests via the Pet Portal on your website. And, you respond quickly! That fits my picture of an ideal partnership, working with me toward the optimal health for my dogs. I know I can completely trust that no matter what comes up in my dogs' lives, I can count on all of you to keep me informed and to help me make the best decisions possible for them.
Thank you, Dr. Porter, for putting your amazing team together and thank you, team, for making it work so well.
Fondly and with gratitude,
Chris Ducsai

---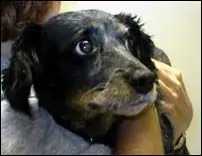 "Dr. Porter and Dr. Clark and the entire staff have always treated me and "my kids" pleasantly. There is so much to say about Ajo Veterinary Clinic, it's staff, it's doctors. They all are very much professional, caring, understanding, and the quality of care is extraordinary. I cannot envision not having the staff and doctors who have given so much of themselves to the care of "my kids" in my life. They have become my "extended family" and I cannot thank each and every one of them enough for all their work, caring and dedication to my four-legged friends! Ajo Veterinary Clinic is truly a place where anyone can bring their "babies" and feel "at home" knowing the best care is here."
-Angel and Morgan's Mom, Joanna Stiner
---

"A fine staff of doctors and assistants, but Dr. Penny Porter is very special to me and my K9 core – she's one of a kind! Me and my K9′s have been regular clients since '1987′ – I think that is proof enough that you will be satisfied – we are!"
-Dick Sonnenberg
---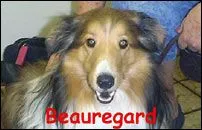 "I have had Vickie, Cassie and now BoBo and I will continue to come to Ajo Vet Clinic as long as I have animals."
-Bobo's (Beauregard) Mom, Shirley Pulham